NASA DSSV
A habitation module concept developed in collaboration with NASA to house 48 astronauts on deep space missions to Venus or Mars. With each mission lasting over 5 year, design was prioritised for emotional health and well-being.
̌
A collaboration between 12 designers from RISD and NASA, the team was tasked to design the interior of the pill-shaped Habitat Module (HAB) of the Deep Space Science Vessel (DSSV). With a potential number of 48 crew members on board, design was prioritised for emotional health and well-being, dividing the project into four systems (teams): Hygiene, Entertainment & Exercise, Galley, and Crew Quarter (CQ).
Will Zhang, Sam Zaref and Rohit designed the Crew Quarters (CQ).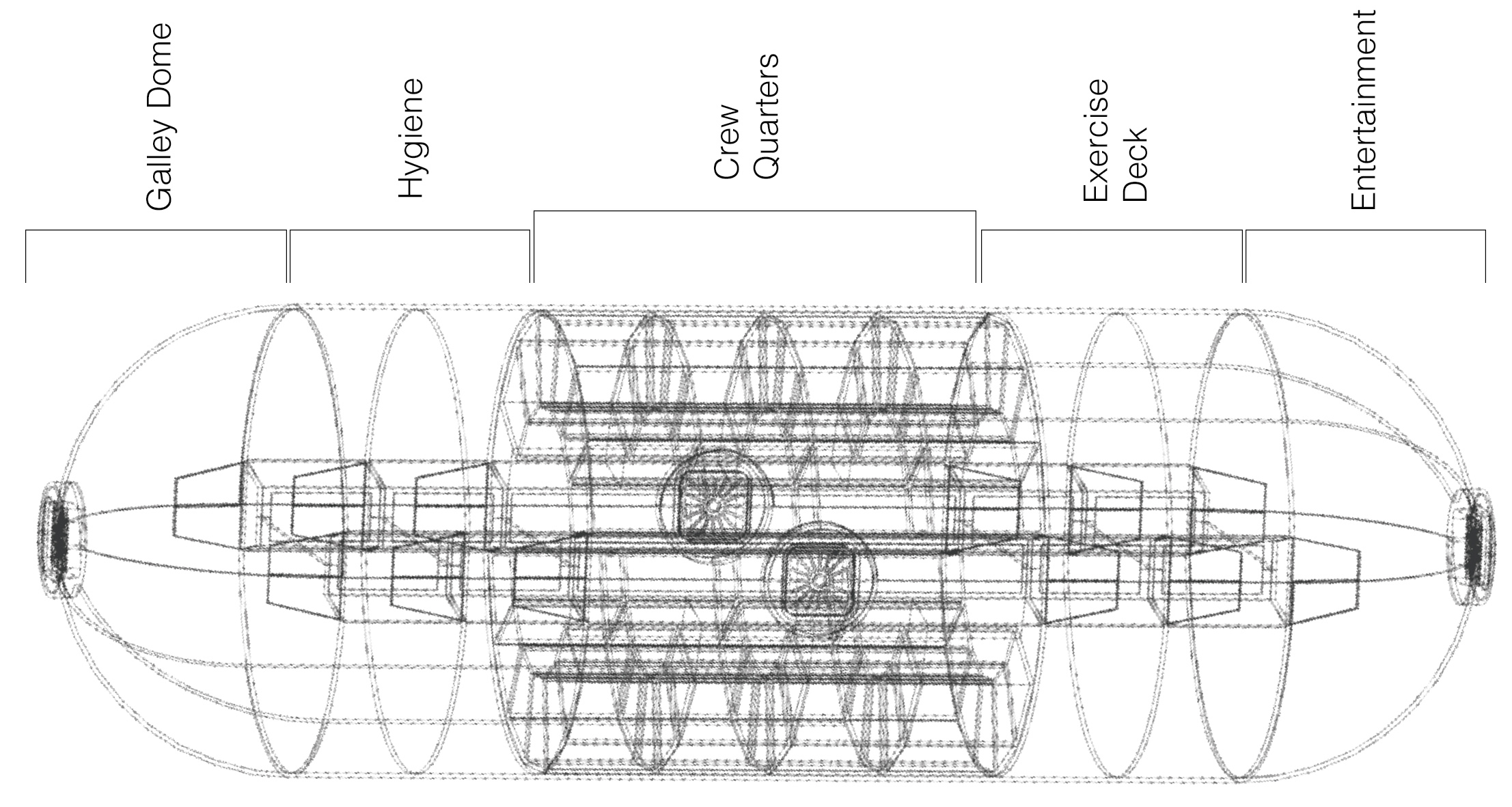 The HAB module has a diameter of 10 metres
All Crew Quarters (CQ) are standardised to fit the 95th- and 5th-percentile male and female comfortably. We determined that a 2.5m-tall unit provided optimum comfort and was the most economic of available space. The HAB CQs house all 48 crew members, individually.
All units are usable in all environments between normal Earth gravity (1G) (left) and zero gravity (0G) (right)
With 48 crew members in a space this small, the HAB was design around 3-tiers of privacy.
1. Large space (The Galley and Entertainment): Entire Crew
2. Common space (The ECLSS Courtyard and CQ Balcony): Large open areas accommodate social groups. It allows ease of movement and quick mobilisation in emergencies
‍3. Personal space (Crew Quarters): Promotes individual privacy and allows for social detachment and ownership
The design of the CQ deck heavily depended on prototyping physical spaces to test spatial comfort and understanding bodily limitations and habits.
An example of a test undertaken was to sleep in the unit and do regular activities (homework) in the space for long stretches of time (8-12 hours).
After deciding on a volume that is physiologically-inclusive, the rest of the deck was designed to be an open space. Due to the lack of orientation in space, an open deck allows for freedom for interpretation and community.
The CQ is designed to look like a bedroom in order to provide normalcy to the residents aboard the DSSV
Air Ventilation System (ECLSS Pillar) inside the CQ
Proposed sound abatement materials (left) and Wall Panel design (right)
Utilizing foam-core and fabrics, a 1:1 model of the individual CQ unit was built to enter and interact with
Designed to mimic an Earth Bedroom. Having a set orientation in their personal space can improve self-organization and provide an emotional tie to life back on Earth
Grips stretch across the top and bottoms of the CQ walls to help residents orient themselves within the room, navigate around, or to stay put. They're positioned to accommodate any human height between the 95th and 5th percentile.
A folding bed was designed to maximise space. Having a bed in the room continues the sense of normality of living in a bedroom on Earth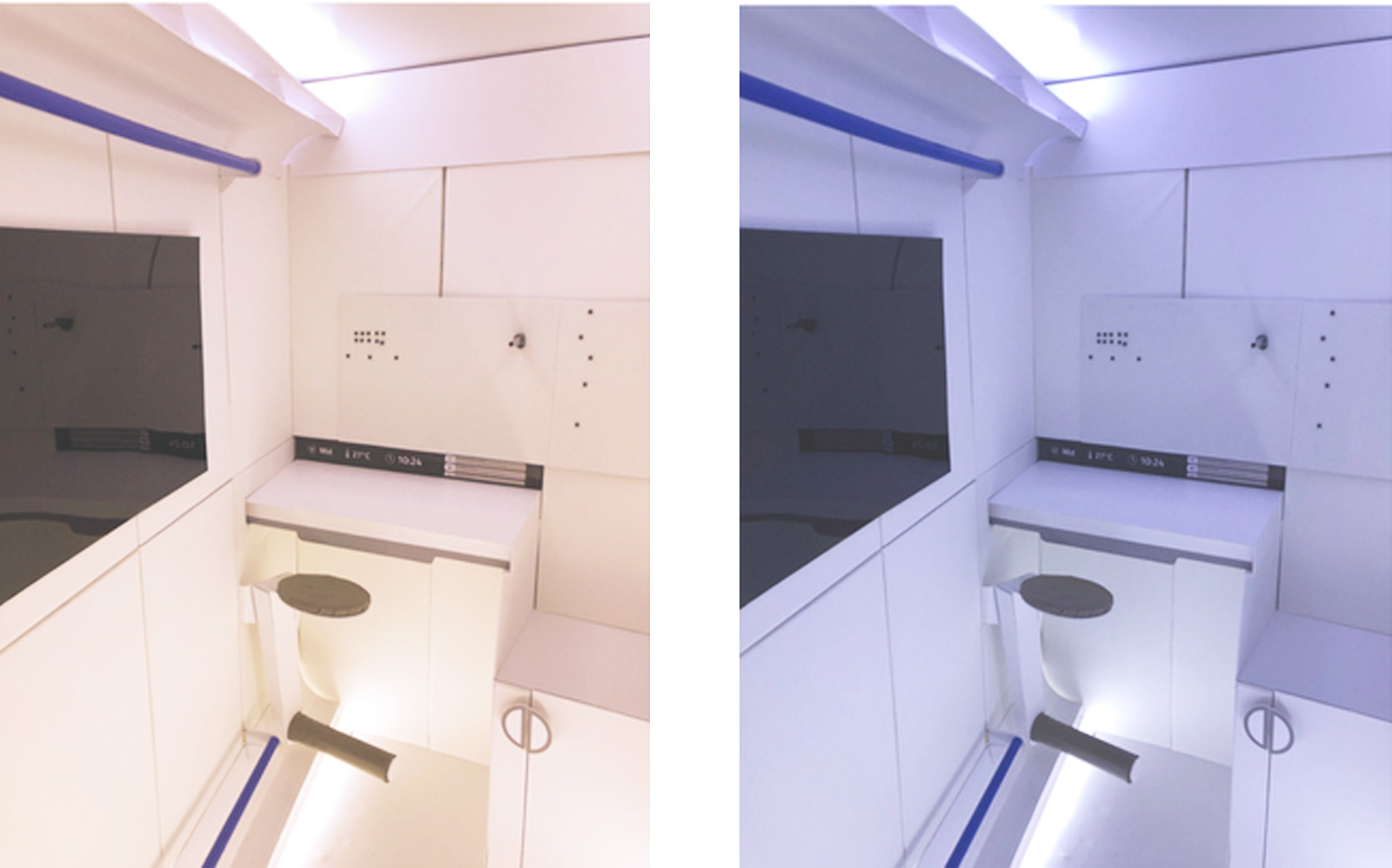 Lights shift colour throughout a 24-hour cycle to facilitate normal circadian rhythm cycles. Warmer shift (left) stimulates sunset and reduces exposure to blue light. Cooler shift (right) simulates daylight as astronauts awaken
Provision for a storage unit capable of storing 4 months' of clothing. Next to the storage unit is a first-aid and emergency response cabinet that can contain items like oxygen masks and medical equipment.
A waste disposal bin that utilizes vacuum-bags to ensure that nothing escapes the bin and contaminates the room.
The desk is a magnetic surface that allows the resident to fix objects on top and doubles as an induction charging pad. Care has been taken to reduce as much wiring as possible. In front of the desk is an information bar and climate control.
The entertainment system is a paper-thin screen attached to the wall. The size was determined by the average human field-of-view, by height. Integrating AR and VR, the screen assists in detachment and works as a window to Earth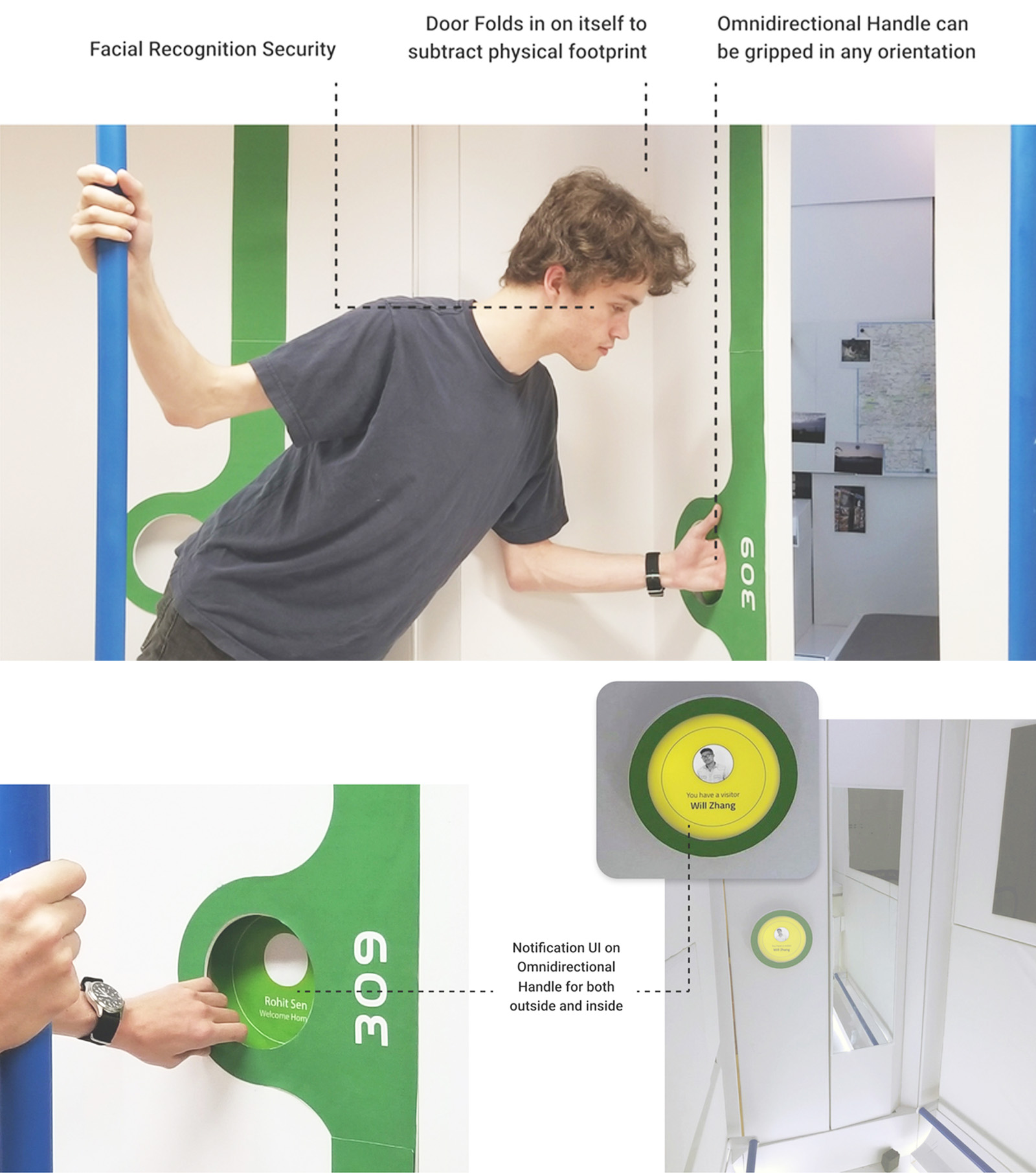 An omnidirectional handle was designed to minimize the effort to open the sliding door, that can be gripped from any angle. In addition, the screen at the center informs the resident of any visitors.